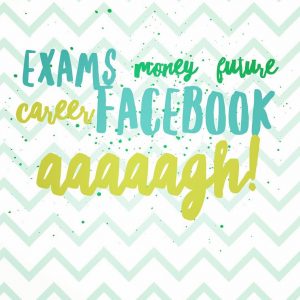 Are our young people weighed down with a world of worries before they are barely out of education?
Are we unintentionally creating a nation of super-achievers at the expense of their everyday health, happiness and well-being?
At what point should we ask ourselves if the high levels of stress related conditions in young people are simply a case of Too Much Too Young?
Those who work with young people of either senior school or further education level will likely be aware of the increasing numbers suffering from stress related conditions. News articles on this topic have been relatively frequent in recent years. From my experience of working with young people in my two related business areas (health and wellbeing under my Think Healthy Be Healthy brand and career and performance under my nurtureHR brand), stress and anxiety are more common than you may imagine.
Looking at the multitude of conflicting demands and typically high stress pressures faced by young people today, this is perhaps not so surprising. These can include:
Continuous testing, exams and desire or pressure to achieve high grades
Heavy extra-curricular demands for those keen to evidence well-rounded interests in future education and employment applications
Lack of clarity on future direction
Highly competitive further education, internship and employment application process
Social and peer pressure heightened by social media.
to name just a few (and I haven't even mentioned the very real financial burden and concerns of future debt).
The one-to-one work I do with young clients in senior school and further education is invaluable in:
raising their awareness of stress triggers and helping them put in place highly-effective coping strategies
encouraging them to take responsibility and be proactive in building good lifestyle habits and behaviours to help reduce stress (it's amazing how many identify sleep, healthy eating and exercise in our sessions, without any prompting from myself and to the delight of their parents when they later notice these encouraging changes!)
helping them to put in place highly effective techniques of time management, organisation and personal effectiveness to ensure a focused and structured approach to managing the many demands on their time
enabling them to thrive and enjoy what is a very special and exciting time in their lives.
I run an S3-S6 programme which is aimed at giving personalised support to those in these crucial senior school years. The upper senior school years are the foundations of life for many where they make further education or employment applications and choices of longer lasting impact. Providing focused support during this time and helping to develop a positive and purposeful attitude is key. These are years to be enjoyed as opposed to simply ticking boxes. Especially with female teenage clients, I have found that issue is not to get them to work more or harder but to build greater focus and direction along with boosting self-esteem and confidence.
My S3 – S6 programme covers key areas of boosting grades, gaining clarity, building confidence, supporting this with healthy living behaviours. It also is flexible, taking a personalised approach to individuals to focus on specific areas or issues such as improving debating performance, improving musical performance, overcoming specific fears etc. Should there be any specific issues that arise during the programme year, they can be addressed during a session.
For those in their student years, I offer either a 2-hour Breakthrough Session or a Personalised Programme of Support to take a tailored approach to their specific needs. Great strides can be made in these sessions on a wide range of areas including:
settling in/finding your feet/managing away from home
learning styles and techniques
organisational efficiency, time management and personal effectiveness
clarity on future direction
internship and employment applications
health and well-being issues (stress, sleep, healthy eating, motivation to exercise etc)
confidence and self-esteem
overcoming fears and
improving performance (including public speaking).
If you would like a chat to find out more, get in touch via the contact form and we can fix a mutually convenient time to talk.
If you would like to share your thoughts with me on this, feel free do so via the contact form.